A few days ago we announced a new partnership with CSDEM and LyricFind to give access to more than 2.5 million lyrics. The following blog post explains how to properly retrieve the lyrics in Music Story API.
2,645,146 tracks have been associated with the right lyrics as you can see on the statistics page of the API. You can also look at the difference over 7 days of updates – here we added 2,873 tracks associated with their lyrics.

Description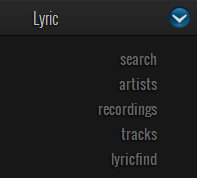 From the developers' perspective, the access to the lyrics data follows the same logic than other objects on Music Story API.
In the developers' portal, a Lyric object has been added and designate the song lyrics (with an unique ID). It also defines the work associated with the song, with its ISWC code (International Standard Music Work Code).
The Lyric object can match several "recordings", with their ISRC and hence its multiple "tracks". Moreover "artists" – whether they are performer, author, or composer – can be found from the object. The unique lyrics ID can be retrieved from the Recordings, Tracks and Artists objects, and vice-versa.
The recording-lyric connector refers to all the lyric IDs from a specific recording (ISRC),
The track-lyric connector sends back the lyric ID associated with a specific track,
The artist-lyric connector gives all the lyric IDs associated with an artist.
We remind you that the access to the lyrics is made possible thanks to a partnership with LyricFind*. From the Lyric object, we use the lyricfind connector to retrieve the LyricFind ID associated with the lyrics of the song we want. Then we use the LyricFind API to have a direct access to the lyrics.
Example: I want the lyrics of "Bored" by Deftones
1. I make an Artist search in the API Explorer to retrieve the Music Story artist ID of Deftones, which is: 100254.
2. From the Artist object, I type in Deftones' ID and I find the associated tracks. The Music Story track ID linked to the track "Bored" is: 108542414108929.
3. From the Track object, I type in "Bored" ID and retrieve – via the lyric connector – the Music Story lyric ID associated with the track: 6547615.

4. From the Lyric object, I type in the lyric ID tand retrieve – via the lyricfind connector – the LyricFind ID: 001-884377. I can then make a request on LyricFind API to retrieve the lyrics of "Bored" by Deftones. The result is as follows:
———————————————————————————————————————————————————————-
*LyricFind API can be freely used for developing prototypes (LyricFind Evaluation License). Warning: the access to the lyrics requires a complementary contract with the CSDEM or LyricFind, which remain the copyrights owners. To subscribe you need:
– a CSDEM-approved subscription (for French customers)
– to deal directly with LyricFind (for the rest).
Find the whole procedure and the contact details on the dedicated partnership page.
———————————————————————————————————————————————————————-
Have fun!
The Music Story team.
Join us on Twitter @API_Music_Stor